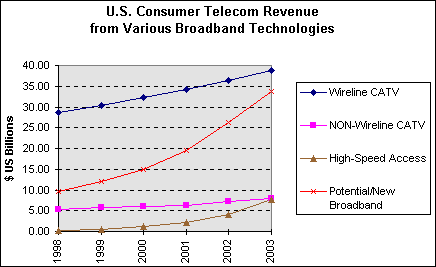 The battle for high-speed Internet access is going to be dominated by the clash between broadband technologies striving to capture the initial base of modem customers, says a new report released from Parsippany, N.J.-based research firm Insight Research Corp.
Insight's "Consumer Demand for Broadband Services: xDSL, Cable Modems, and Wireless" report results show that the total broadband service growth rates are almost four times the rates forecast for narrowband services. It's no secret then that service providers will need to deploy broadband services to sustain future growth.
The report examines the key trends in wireless, satellite and wireline consumer broadband services. Most notable, xDSL modems and cable modems will fight to domineer the market. DSL, supplied by telcos, has the advantage in direct marketing and service capabilities, says Robert Rosenberg, president of Insight. But cable already is installed in 70 percent of all households and cable operators continue to deliver high-speed service faster than incumbent telephone companies.
Cable TV operator Cox Communications discovered that once consumers buy a cable modem (currently selling at $250-$300) from Cox or an electronic store, they are far less likely to churn and move to another wireline Internet provider, such as a phone company, the report states. This will put more emphasis on a strategic blueprint for the new higher-speed DSL service, because any misstep will give the cable TV industry the opportunity to gain a commanding advantage in the residential broadband market. The Universal ADSL Working Group has gaffed in their expectations to mass market modems by the 1998 holiday season, the report says, and ADSL modems could be shut out of the market if further delays persist.
"Consumer Demand for Broadband Services: xDSL, Cable Modems, and Wireless" is a 220-page market research study now available from Insight Research Corp.